During the recent Tech-Ed 2011 show, we asked one simple question to all those who stopped by the NetWrix booth: "What product are you using for change auditing?" Almost 600 people responded, and while some indicated that they were not yet auditing IT infrastructure changes, 133 attendees confirmed that they were in fact doing change auditing. And what's more, 18% of those who said that they are auditing changes are using NetWrix to do so, helping NetWrix account for the largest percentage among all third-party vendors in the survey. This eye-opening statistic is clear evidence of the fact that NetWrix is #1 for Change Auditing. Another interesting survey conclusion points to the fact that 62% of respondents are still using native, home-grown or other tools for change auditing (and based on participant feedback, most are NOT happy with them). The full results of this research are presented below: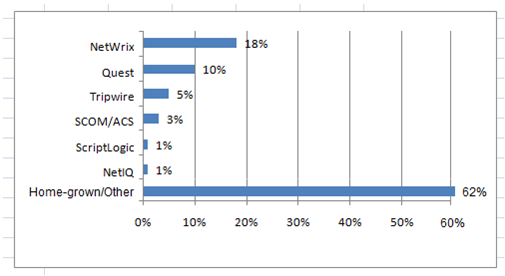 For other interesting facts about change auditing, please read Top 10 Conclusions Taken from Tech-Ed Session about Active Directory Auditing by Don Jones.
What products are using for change auditing and are you doing change auditing of your IT infrastructure at all? Please post your opinions below.