In a recent NetWrix poll regarding interest and use of the Identity Management Suite it was revealed that understanding what users have forgotten a password was highest on administrators' lists of needs. Representing nearly 45% of those polled, administrators make a clear indication that a better solution is needed to assist them manage their daily workloads. Desire driven by information regarding strong password policy, account lockouts, and user provisioning/deprovisioning were even at just over 11%. The remaining respondents (20%) expressed interest due the need to better manage privileged accounts. Download poll graph is shown below: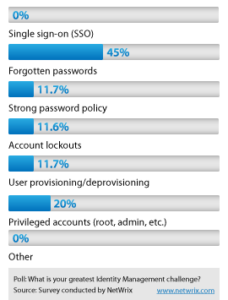 Native tools within Windows provide the basics though as the environment grows and becomes more complex, these native tools will often fail to satisfy day-to-day requirements. Identity Management within Active Directory is the central nervous system of your network and managing it is critical to maintaining security and delivery of services. Doing so with native tools can be a tedious and resource-intensive task, not to mention highly prone to user-error.
The NetWrix Identity Management Suite automates, consolidates, and simplifies day-to-day Identity Management needs making it the perfect solution for administrators and help desk personnel alike. By simplifying the most frequent and common identity management related tasks such as forgotten and expired passwords, account lockouts, user deprovisioning, and privileged account management, more time can be spent on more meeting other important objectives while reducing overall risk and improving security. What measures are you taking now to ease the burden of Identity Management-related events in your environment? Please post your comments below.