We are pleased to announce that NetWrix has just been honored with another great award – this time thanks to WindowSecurity.com readers – making it the 17th award within the two-month period.
NetWrix Change Reporter Suite was selected the winner in the Network Auditing Software category of the WindowSecurity.com Readers' Choice Awards. GFI LANguard and Admin Report Kit for Windows Enterprise (ARKWE) were runner-up and second runner-up respectively.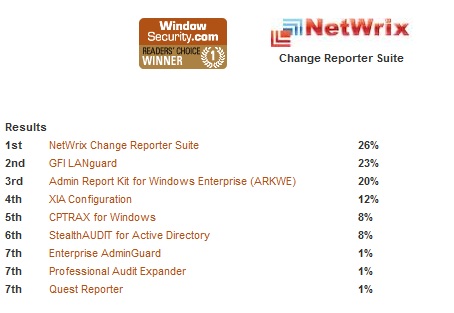 "Our Readers' Choice Awards give visitors to our site the opportunity to vote for the products they view as the very best in their respective category," said Sean Buttigieg, WindowSecurity.com manager. "WindowSecurity.com users are specialists in their field who encounter various network security solutions at the workplace. The award serves as a mark of excellence, providing the ultimate recognition from peers within the industry."
WindowSecurity.comconducts monthly polls to discover which product is preferred by Network Security administrators in a particular category of third party network security solutions. The awards draw a huge response per category and are based entirely on the visitors' votes.
Just about a month before getting this honor NetWrix VMware Change Reporter won a VirtualizationAdmin.com Readers Choice Award which made it a second important award from TechGenix Media – one of the largest providers of free high quality technical content to IT professionals all over the World.