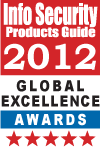 Info Security Products Guide, the industry's leading information security research and advisory guide, has named NetWrix Change Reporter Suite a winner of the 2012 Global Excellence Awards in Best Security Software (New or Updated version) category.
We had been awaiting fo this news since December 2011 when NetWrix Change Auditing Solution was announced finalist in 2 categories: Auditing and Best Security Software; NetWrix Identity Management Suite – in Identity Management category. And now Change Reporter Suite finally made it.
This award once again proves that NetWrix is #1 for change auditing considering this is the second year in the row that Change Reporter Suite wins in Global Excellence Awards – last year it was a winner of the 2011 Tomorrow's Technology Today Award.
NetWrix flagship Change Auditing Solution was selected among tens of software solutions that are making the most positive impact on security in today's highly sophisticated and blended attacks environment.
Info Security Product Guide Global Excellence Awards is the security industry's leading global excellence program honoring achievements in every facet of the security industry.
The security industry celebrated its 8th Annual 2012 Global Excellence Awards in San Francisco by honoring excellence in every facet of the industry including products, people behind the successes and best companies.