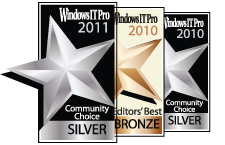 NetWrix Service Monitor is a free tool to monitor critical Windows services and optionally restart them after failure. The tool monitors all automatic startup services on multiple servers at a time and sends e-mail alerts when one or more services stops unexpectedly.
Now it is completely free of charge which means that freeware gained ALL the features of what used to be an enterprise edition.
For example it is now capable of not only sending e-mail alerts on service failures but also can start a service, restart a computer or even start a user-defined program.
Another important benefit for a user is that freeware now supports unlimited number of servers (before it could handle only 10).
Please note that the license code is provided on the download page after a brief registration.
Download Freeware
Features and benefits:
One installation watches multiple computers at a time;
Monitors all Windows services with startup type set to Automatic;
Sends alerts by e-mail when services stop or fail to start at boot time;
Optionally starts failed services;
Optionally reboots computers when one or more services fail
Please also freel free to check out other NetWrix free tools.