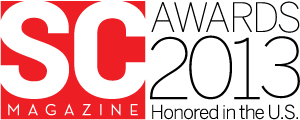 Please support NetWrix by voting in the 2013 SC Awards (by SC Magazine) for the Best Computer Forensics Tool category. The nominated solution is NetWrix Change Reporter Suite. If you are not an SC Magazine subscriber yet, please subscribe in order to vote (click the below button and follow instructions).
NetWrix Change Reporter Suite is a flagship NetWrix solution for unified auditing of changes to critical IT systems. Filling the gap left by Microsoft's native auditing the Suite produces easy-to-understand reports that include the complete overview of all changes occurred in the IT infrastructure for any period of time including previous and new values for modified settings. Therefore the Suite drastically improves IT infrastructure visibility and internal security, can be used for detailed forensic analysis and helps streamline regulatory compliance to such standards as HIPAA, SOX, PCI, GLBA, FISMA and many others.
No matter who changed what, where and when — be it Active Directory, file servers, Exchange, filer appliances such as NetApp or EMC, virtual and physical infrastructure, SQL Server databases — everything is centrally audited, consolidated, and presented in  reports, scheduled for ongoing review and forensic auditing of day-to-day administrative activities by your security team and periodic inspections by compliance auditors. Another unique NetWrix technology, AuditIntelligence™, transforms raw audit data into meaningful and actionable intelligence to drive security and compliance efforts. Data can be filtered by different criteria, such as the name of the person who made changes or accessed data, time period, and other parameters.
Thank you for supporting NetWrix!