One of the most popular web-sites for IT professionals has conducted an independent review of Netwrix Auditor. Our flagship solution for information technology audit received the highest 5 out of 5 overall score and a WidnowSecurity Gold Award.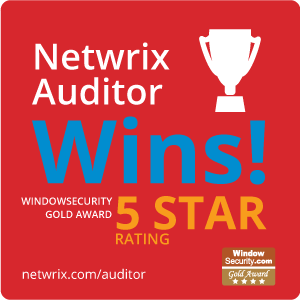 'Netwrix Auditor has matured into a very comprehensive change monitoring and management solution and this time around, I have no hesitation about giving it the WindowSecurity.com Gold Award with the highest 5.0 out of 5.0 rating.'
Deb Shinder, WindowSecurity.com
You can read the full product review on WindowSecurity.com or download a FREE trial of Netwrix Auditor.