Working with a tight budget? Or you are actually  enjoying saving money? This cheapskate edition of Sysadmin Magazine is exactly what you need! From top free tools for account lockout troubleshooting to no cost techniques of removing ransomware – here's a perfect collection that won't cost you a dime.
Contents:
Top 5 Free Tools for NTFS Permissions Reporting
Check out a list of 5 free tools for NTFS permissions reporting. Each of the tools will help you save time on report generation and reduce security gaps.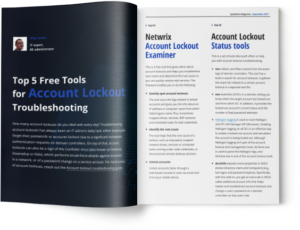 Top 5 Free Tools for Account Lockout Troubleshooting
How many account lockouts do you deal with every day? Here are 5 free tools that help you find the root cause of a lockout and prevent decrease in productivity.
[Infographics] Top Cybersecurity Risks in Government
Which security issues bothered government entities in 2016? How well were they prepared for cybersecurity risks? Check out these free infographics.
How to Get Rid of Ransomware at No Cost
Getting rid of ransomware is not an easy task, but who said it is impossible? With this article, learn how to remove ransomware or at least stop it from spreading.
5 Free Exchange Security Tools You Probably Don't Know About
Exchange email security is a huge front to defend. Here are a few areas to consider when thinking about your Exchange infrastructure security plan.
Free Tool of the Month: Effective Permissions Reporting Tool
The freeware tool delivers a file share and Active Directory permissions report that details who has access to what and how that access was gained.
How to Detect Password Changes in Active Directory
Any changes to a user account password made by anyone other than the account owner or an IT administrator might be a sign of an Active Directory account hack. Learn how to detect password changes and in AD to avoid data leaks and system downtime.
Best Regards,
The SysAdmin Magazine Editorial Team
Download the September issue of SysAdmin Magazine now >>