IT world is a thrilling place full of unpredictable cybersecurity threats. Do ransomware attacks, malicious insiders or unexpected auditors make your blood run cold? In this special Halloween edition of SysAdmin Magazine, we'll walk you through the scariest IT stories and instruct you how to fight the danger in the most effective way.
In this issue, you'll find: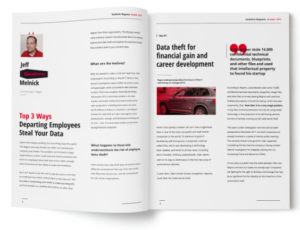 To the Hell and Back: Story of a Ransomware Survivor
An IT director who beat ransomware and saved his school district over $60K shares six tips to prevent ransomware attacks.
3 Hair-Raising Ways Departing Employees Steal Your Data
Any employee who is about to leave can be involved in cybercrime. Find out the top ways departing employees succeed at data theft.
Monster Inside: 4 Things You Should Never Store in Your Database
What to avoid storing in your database to keep it secure? Here are the 4 things you should keep an eye on.
[Infographics] Top Cybersecurity Risks in Education
Which security issues bothered educational organizations in 2016? How well were they prepared for cybersecurity risks? Check out these free infographics.
8 Scariest Ransomware Viruses
What is ransomware and how does it work? Which ransomware virus should you be afraid of the most? You will find the answers here.
Survival Guide for a Victim of a Horrible Hack
Learn the 4 key steps you should take immediately if your business has been hacked.
Free Tool of the Month: Password Expiration Notifier
Freeware tool that automatically reminds users to change their passwords before they expire so you can ensure IT security and reduce helpdesk workload
[How-To] Stay on Top of Permissions Changes to Public Folders in Exchange Online
Keep an eye on permissions changes to exchange online public folders
Best Regards,
The SysAdmin Magazine Editorial Team