IT systems are like high-performance racecars — they need to be constantly maintained, updated and tuned. The November edition of Sysadmin Magazine explores the most common IT security risks and offers effective techniques for assessing and reducing them so you can always win the security race.
In this issue, you'll find: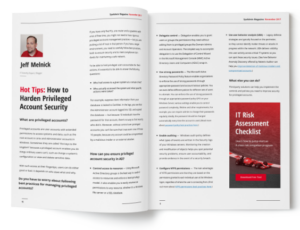 What's New in Netwrix Auditor 9.5
Netwrix introduces Netwrix Auditor 9.5. Upgraded Netwrix Auditor improves detection of threat actors and security gaps in hybrid environments.
5 Things You Need to Know about IT Risk Assessment
Learn the five most important things to know about IT security risk assessment and ways to implement them it in your IT environment.
Identify your risks in 8 steps to jump-start an A-class risk mitigation program
Active Directory Management: Top 7 Common Mistakes
We'll walk you through the most common AD management mistakes and help ensure that you never make them again.
Embrace Yourself, HIPAA Security Risk Assessment Is at Your Door
Find out why organizations do not succeed in IT risk assessment for HIPAA and where you need to start to pass an upcoming HIPAA audit.
Hot Tips: How to Harden Privileged Account Security
Learn what privileged accounts are and how to strengthen privileged accounts security in 7 steps.
Free Tool of the Month: Bulk Password Reset
Freeware tool that simultaneously resets multiple local admin and user passwords, so you can harden data security and automate password resets on your Windows Servers and computers.
[How-To] Find Permission Changes across File Servers
Enable change audit of File Server permissions to detect any privilege escalation.
Best Regards,
The SysAdmin Magazine Editorial Team
Download the November issue of SysAdmin Magazine now >>