Worried that you made it onto Santa's naughty sysadmins list and won't get any gifts for Christmas? We've got you covered!  The Best of 2017 edition highlights the hottest topics of this year. This is a perfect gift that you can download and make yours—no matter how nice or naughty you've been.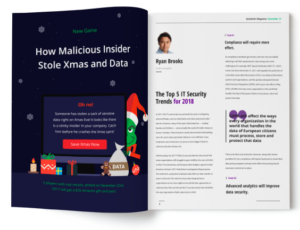 In this issue, you'll find:
The Top 5 IT Security Trends for 2018
Wondering what  key IT security trends will unfold in 2018?  Check out these top five trends that will define the way organizations fight cybercrime in 2018.
Top 5 Free Tools for NTFS Permissions Reporting
Check out a list of 5 free tools for file permissions reporting. Each of the tools will help you save time on report generation and reduce security gaps.
Top 5 Free Tools for Account Lockout Troubleshooting
How many account lockouts do you deal with every day? Here are 5 free tools that help you  find the root cause of a lockout and prevent decrease in productivity.
Using AD to Add an Alias to an Office 365 Email Account
Learn a quick trick on how to add a second email address to an Office 365 email account by using AD.
[Infographics] Top Cybersecurity Risks 2017
The 2017 IT Risks Report unveils how organizations are working to combat cybersecurity risks. Check out the study with highlights in the form of infographics.
PowerShell: Find Disabled or Inactive Users and Computers in AD
Upgrade your PowerShell skills with a handy script that you can use to find disabled or inactive user and computer accounts.
3 Common Problems in Migrating to Exchange 2016
Thinking about migrating to Exchange Server 2016? Here are the 3 most common showstoppers for the Exchange migration.
Free Tool of the Month: Inactive User Tracker
Freeware tool that facilitates Active Directory user account management by providing insight into stale user accounts across your IT environment.
Best Regards,
The SysAdmin Magazine Editorial Team
Download the December issue of SysAdmin Magazine now >>