What is the cloud for you: friend or foe? It can be a great IT asset for your company — but you have to know how to navigate its dangers. Discover what threatens data that resides in the cloud and learn how to protect it, with the January edition of SysAdmin Magazine. Inside, you'll find all of the following: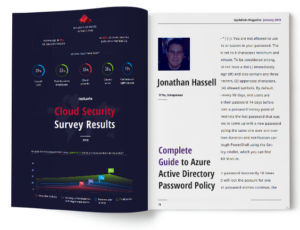 Office 365: Configuring User Passwords to Never Expire
Tired of dealing with Office 365 password expiration notifications? Learn two simple ways to configure user passwords to never expire.
IT Trick: View Azure AD Sign In Activity
Need to know who's logging in to your cloud directory or Office 365? With this tip, we'll show you where to find information about Azure AD sign in activity.
[Infographics] Cloud Security Report 2018
The new Netwrix 2018 Cloud Security Report analyzes the current state of security in the cloud and organizations' plans to mitigate risks.
Complete Guide to Azure Active Directory Password Policy
One of the benefits of Azure Active Directory is the flexibility it gives you when it comes to managing passwords. Azure AD password policy basics are described below.
[Quick Reference Guide] Exchange Online Auditing
Do you ever need to know who created a new user mailbox or made changes to a user account's permissions? This guide explains how you can better audit your Exchange Online environment.
[Recorded Webinar] Cloud Security: Who is Responsible for Your Critical Assets?
Watch our new webcast and learn what you need to keep in mind when your data resides in the cloud.
Free Tool of the Month: Netwrix Service Monitor
Freeware service monitoring tool that enables you to monitor Windows services on your critical servers.
[How-To] Detect Who Was Accessing Shared Mailbox in Office 365
See what users who were granted full access to a shared mailbox in Office 365 have been up to.
Best Regards,
The SysAdmin Magazine Editorial Team
Download the January issue of SysAdmin Magazine now >>