Permissions are often called the keys to a company's network kingdom, and there's a good reason. In the February edition of SysAdmin Magazine, you'll discover the shocking truth about the danger of over-privileged users. With this knowledge, you can right-size permissions in your environment to mitigate the risks of privilege abuse and data exposure.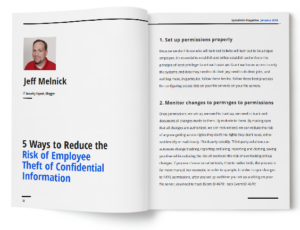 What to Know about the Threat of Privileged Users
Find out what privileged accounts are and why they are so dangerous. Learn four key things you can do to mitigate the threat including privileged account management.
Key Lessons Learned from Data Breaches Caused by Privilege Abuse
Four notorious security breaches caused by privilege abuse prove that least privilege principle and user activity monitoring help mitigate insider threats.
Security Tip: Detect Permission Changes in Active Directory
In this tip, we'll show you how to maximize visibility into activity around Active Directory object permissions.
5 Ways to Reduce the Risk of Employee Theft of Confidential Information
Departing employees can be a big source of data leakage. Here are the 5 steps to mitigate the risk of employee theft of confidential information on their way out.
Free Tool of the Month: Effective Permissions Reporting Tool
The freeware tool delivers a file share and Active Directory permissions report that details who has access to what and how that access was gained.
[Recorded Webinar] Top 5 Windows File Server Incidents You Need Visibility Into
Watch the recorded webcast to learn how to bring more visibility into user behavior across your file servers, detect anomalous activity spikes, changes to access permissions, overexposed data and more.
How- to Get an Active Directory OU Permissions Report
Get an Active Directory permissions list for a specific OU to revoke excessive access rights and prevent privilege abuse.
Best Regards,
The SysAdmin Magazine Editorial Team