Enjoy the best posts written by five 2018 Sysadmin Blog Awards winners in this special edition of SysAdmin Magazine. These select five writers cover everything you care about the most – from network hacking and cloud security to free InfoSec trainings, sysadmin jokes and more.
In this issue: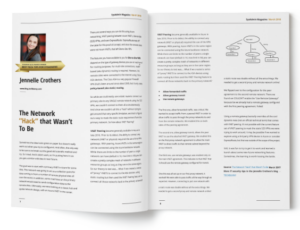 A closer look at why 'carpet bombing' of phishing email endures
Organizations of all sizes continue to be relentlessly attacked and that social engineering, via email phishing, accounts for a vast majority of the initial barrages. Let's try to understand why it happens.
Source: The Last Watchdog, Best IT Security Blog
The Network "Hack" that Wasn't To Be
Check out a creative approach to learning about some Azure networking features.
Source: TECHBUNNY, Best Tech Tips for System Administrators
5 Cloud Security Mistakes to Avoid
Cloud environments are highly secure, yet moving to the cloud isn't guaranteed to improve security. Discover the top 5 cloud security mistakes and learn how to avoid them.
Source: Rick's Cloud, Best Cloud Computing Blog
13 Free InfoSec Training Resources For IT Pros
The amount of free information security training is growing daily, but whittling your choices to the good stuff isn't always easy. Take a look at the best list.
Source: Tom's IT Pro, Best IT Career Blog
Being a sysadmin is not an easy job but someone has to do it. Here's an average day in his/her life.
Source: FailDesk, Most Humorous Blog
Free Tool of the Month: Effective Permissions Reporting Tool
Freeware tool that collects Windows server event logs from computers across your network and alerts on critical events in real time.
How to Monitor Deletions of DNS Records
Learn how to track deletions of DNS records to avoid service unavailability.
Free Webinar Series: A Hacker Explains — How your IT environment can be compromised
Join this practical webinar series to learn more about the hacking process, the techniques hackers use once inside your network, and the tools and techniques you can use to defend your IT environment.
Best Regards,
The SysAdmin Magazine Editorial Team