GDPR is a four-letter word that has been evoking fear and panic for months now. Isn't it about time to compose yourself and look into the benefits you can gain from complying with the regulation? In this special edition of SysAdmin Magazine, we cover the most critical information about the GDPR to prove that it's not your enemy, but an opportunity to excel.
In this issue: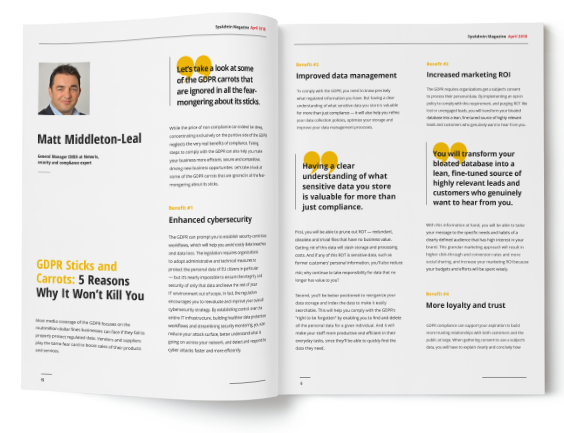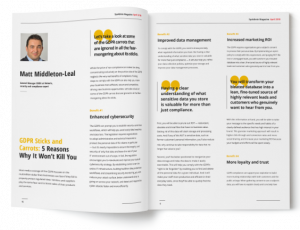 Find answers to the ten most frequently asked questions about the GDPR and get familiar with its requirements to avoid panic.
GDPR Penalties: What Should You Expect?
The GDPR specifies two levels of fines for non-compliance, with maximum penalties reaching 20 million euros. Learn more about what to expect from GDPR penalties and how fines are actually applied.
The Ocean Won't Save You: GDPR Implications for US Companies
Even though the deadline is looming, many US organizations still don't realize they have to comply with the GDPR. Here are the 7 most critical facts about the GDPR that US companies need to know.
GDPR Sticks and Carrots: 5 Reasons Why GDPR Will Make You Stronger
While there's no denying that complying with the GDPR is hard work, it's time to look forward to the benefits it brings. Let's take a look at some of the GDPR carrots that are ignored in all the fear-mongering about its sticks.
How to Jump-Start GDPR Risk Assessment
Effective risk assessment is the key to GDPR compliance. Check out our step-by-step guide for implementing GDPR-compliant continuous risk assessment.
Tool of the Month: Achieve and Prove GDPR Compliance with Netwrix Auditor
GDPR solution that helps easily identify where GDPR-regulated data resides in your network, who has access rights to that data and how the data is used, as well as keep an eye on anomalous data activity.
[How to]: 3 Steps to Comply with Article 25 §2 of the GDPR
Learn how to comply with the regulation in 3 steps and get ready for GDPR compliance audit.
[Recorded Webinar Series] Achieve and Maintain Compliance with the GDPR
Ian Grey, an information and cyber security consultant helps you sharpen your practical skills by sharing some
useful tips on how to achieve and maintain compliance with the GDPR.
Best Regards,
The SysAdmin Magazine Editorial Team
Download the April issue of SysAdmin Magazine now >>