It's time to face a harsh truth of IT life: Your network is almost certainly going to be breached. Best practices now recommend adopting an "assume breach" strategy for as the way to reduce security risks to your environment. According,  the August edition of SysAdmin Magazine focuses on Windows Server security, detailing a mix of new and time-tested techniques to help you protect against, detect and respond to threats in your Windows Server environment.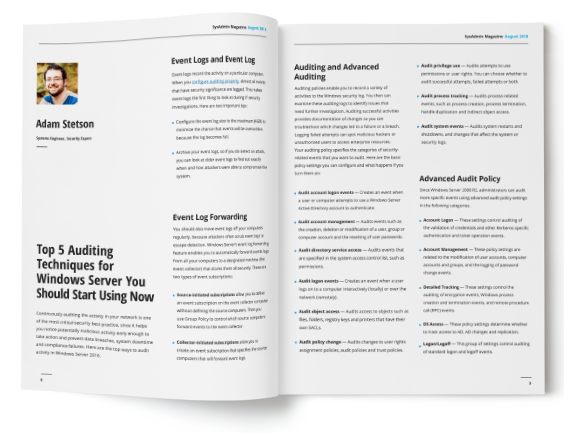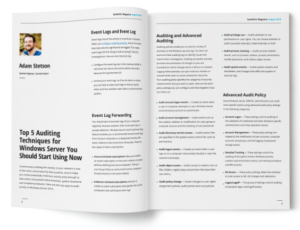 Hackers, Go Away! 5 Ways to Protect User and Admin Credentials in Windows Server
Credentials are the keys to an account. This guide explains the Windows Server 2016 features that can help you to protect user and admin credentials from being harvested by hackers
3 Key Hyper-V Security Features in Windows Server
How to mitigate security risks associated with your virtualized IT systems? Discover the 3 key Hyper-V security features in Windows Server 2016 that protect virtual machines from compromised or malicious administrators
Top 5 Auditing Techniques for Windows Server You Should Start Using Now
Discover the 5 key IT security auditing techniques available in Windows Server 2016 such as auditing and advanced auditing GPOs, event log forwarding and audit collection services.
Securing Privileged Access with ESAE Model
With a tiered administration model based on ESAE, you can smarter restructure the assigning processes of privileged access in your organization. Learn how to use that tool.
Free Tool of the Month: Netwrix Auditor for Windows Server
Freeware tool that delivers visibility into what's happening in your Windows-based server infrastructure. It tracks changes to your Windows Server configuration, such as the installation of software and hardware, and changes to services, network settings and scheduled tasks.
[How- to]: How to Get Local Users
Attackers often try to compromise local user accounts to get a foothold in your network. By keeping a close eye on who has permissions on your servers and workstations, you can quickly detect any deviations from a known good baseline and respond accordingly, hardening the security of your IT systems.
Best Regards,
The SysAdmin Magazine Editorial Team
Download the August issue of SysAdmin Magazine now >>