This edition of SysAdmin magazine will definitely make you feel like you're on cloud nine because we reveal many handy tips for managing your Office 365 environment. The carefully selected articles, how-to's and best practices will help you be more efficient in your work with Office 365.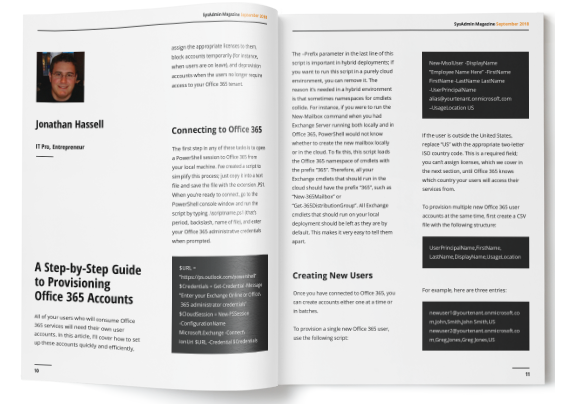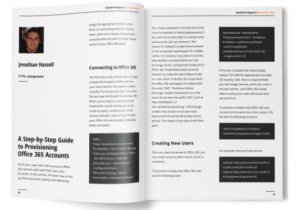 Ten most useful Office 365 PowerShell commands
Learn the 10 most useful PowerShell commands for Office 365, including commands for listing all available cmdlets and managing group membership, as well as the process for installing the Office365 module for PowerShell.
Why native Office 365 and Azure AD auditing is not enough
Dou you know how Microsoft is helping organizations secure their Office 365 and Azure AD deployments, and what are the limitations of the native tools? Let's find out.
A step-by-step guide to provisioning Office 365 accounts
All of your users who will consume Office 365 services will need their own user accounts. here is how
to set up these accounts quickly and efficiently, assign the appropriate licenses to them, and more.
Security Tip: Enable Azure AD self-service password reset
Learn how to enable self-service password resets for Azure AD users while staying compliant with the security policies your organization establishes.
[Infographics] Cloud security risks in the financial sector explained
The infographic is based on the 2018 Netwrix Cloud Security In-Depth Report and shows financial organizations main concerns regarding cloud technology and plans they have for addressing them.
Tool of the Month: Free Netwrix Auditor for Office 365
This freeware delivers visibility into SharePoint Online, OneDrive for Business and Exchange Online systems. The automated daily reports on Office 365 user activity facilitate routine Office 365 admin review for improved security and compliance.
[How-to] Detect who was accessing shared mailbox in Office 365
See what users who were granted full access to a shared mailbox in Office 365 have been up to.
Best Regards,
The SysAdmin Magazine Editorial Team
Download the September issue of SysAdmin Magazine now >>