This issue of SysAdmin Magazine celebrates lazy (read "efficient"!) admins who subscribe to the principle, "work smarter, not harder." It provides a time-tested kit of Windows PowerShell commands that make the job of managing Active Directory easy and almost hands free. You'll find out how to automate daily tasks related to computer and user accounts, organizational units, and much more.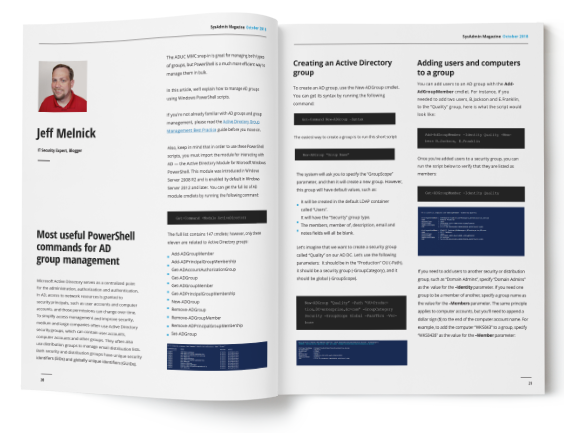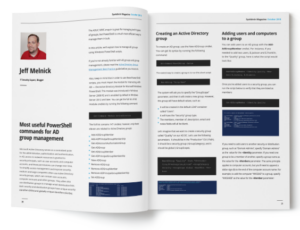 Step-by-step guide for creating new Active Directory users
Check out this guide to learn how to create Active Directory user accounts with PowerShell scripts and how to create new user accounts in bulk using the Import-CSV cmdlet.
How to change Active Directory account status
Learn how to use PowerShell commands to lock, unlock, enable and disable Active Directory user and computer accounts individually and in bulk using CSV files.
Best practices: How to manage computer accounts in Active Directory
Use these PowerShell scripts to become the master of computer accounts! Learn how to create, delete, rename, disable and join computers in AD using Microsoft PowerShell.
Top tips for managing OUs and moving their objects
Learn how to create, move and delete organizational units in AD; link a Group Policy to an OU; and move computer and user accounts to another OU using PowerShell scripts.
Most useful PowerShell commands for AD group management
The article describes how to manage AD groups and AD objects in groups with PowerShell scripts. You will learn how to add and remove AD groups, as well as how to manage group membership for users, computers and groups.
Seven challenges with Active Directory
Active Directory is a great tool, even though it has limitations that can be difficult to overcome. Here are the top challenges with AD and some options for addressing them.
Tool of the Month: Free Netwrix Auditor for Active Directory
This freeware provides visibility into what's happening inside your domain by tracking logons and all changes to AD users, groups, organizational units, GPO links and various policies.
Best Regards,
The SysAdmin Magazine Editorial Team
Download the October issue of SysAdmin Magazine now >>