Today, I'd like to share some of what we discovered as we analyzed the answers to this year's Netwrix customer survey.
It's hard to overstate how important these annual surveys are for the company — every year we receive valuable feedback that helps us keep improving our solution. We strive to deliver new versions of Netwrix Auditor twice a year, so organizations, large and small, can overcome the challenges they face. We were pleased to find that our efforts have not gone unnoticed: Our customers chose the product primarily for its functionality, ease of deployment and use, and broad array of supported systems.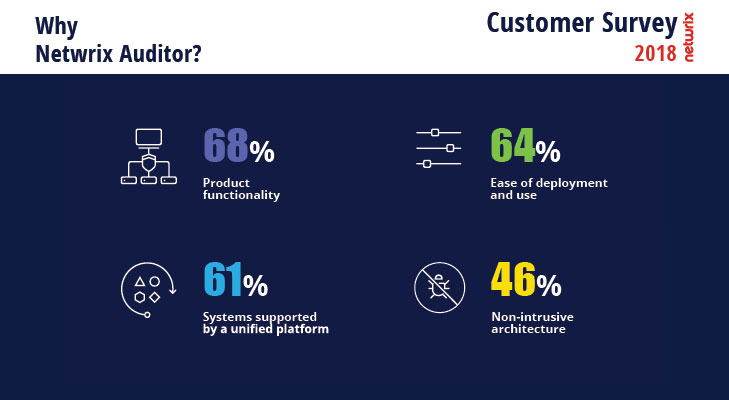 In this year's survey, we focused on understanding which problems our product helps customers solve, which features they find most valuable and how satisfied they are with it. We heard from 406 customers at large and small organizations across 36 industries worldwide (there's more on the survey demographics at the end of this article).
Spoiler:
79% of respondents say that Netwrix Auditor is a strategic investment that helps them improve security

Want to know why? Read the full version of the 2018 Netwrix Customer Survey report.
The first insight and the first surprise
We began this year's survey six months after the release of Netwrix Auditor version 9.5 — enough time for customers to form well-founded opinions about its pivotal features, such as IT Risk Assessment and Behavior Anomaly Discovery. It had been less than a month since the release of Netwrix Auditor version 9.6. Imagine how surprised we were to see that nearly 24% of respondents had already upgraded to version 9.6!
The first key insight in our analysis of the survey results is that IT Risk Assessment had already become one of the most valuable features of the product, right after alerts on threat patterns (which has held the number one slot ever since its release in version 9.0).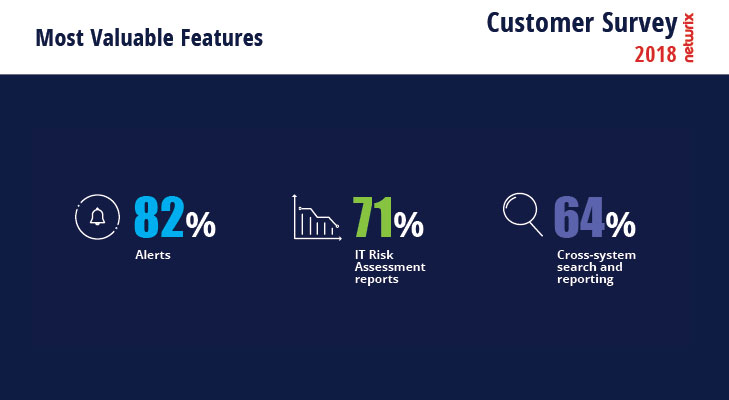 Top challenges customers address with Netwrix Auditor
This result was not surprising; the popularity of this feature is quite consistent with modern IT challenges. After all, discovering security gaps in the IT environment is a basic security precaution against cyber threats, as well as a requirement of many compliance standards. The IT Risk Assessment functionality makes it easier to identify and assess security holes, especially in today's complex IT environments. But don't take our word for it; see what our customers say:
84% of customers say that Netwrix Auditor helps them significantly reduce risks to their sensitive data assets and critical infrastructure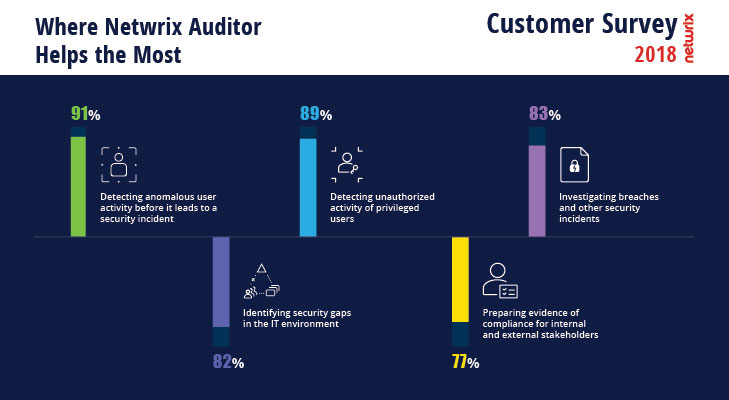 However, though identifying security gaps in the IT environment was one of top five challenges customers address with Netwrix Auditor, it isn't the number one challenge. The top spot goes to detecting anomalous user activity before it leads to a security incident. Of course, anomalous user behavior can indicate either a malicious insider or a compromised account. So, it's no surprise that:
69% of customers state that Netwrix Auditor helps them reduce the likelihood of a cyber attack going unnoticed for a long time

Highly privileged users are a particular concern because they can cause much greater damage, either intentionally or accidentally, than other users. For instance, a single mistake in system configuration can put an entire infrastructure at high risk of being breached. Netwrix Auditor helps customers gain control over the activity of privileged users. Among customers who said they were able to improve the accountability of their privileged users,
The number of security incidents caused by privileged users was reduced by an average of 50% with Netwrix Auditor

Compliance goes hand in hand with cybersecurity; and Netwrix Auditor gives customers the complete visibility into their IT environment they need to ensure that policies are followed, and also reduces the time and effort they have to spend on audit preparation. Some customers saved as much as 9 hours per week during audit preparations. Just imagine what you could do if you could free up a day every week from your compliance routine!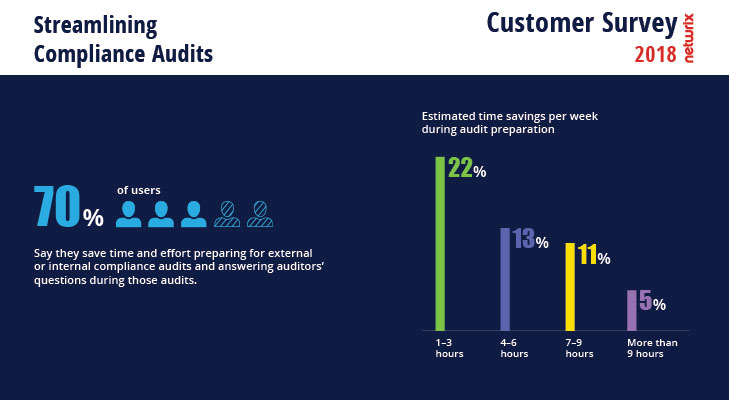 Here are the survey demographics I promised earlier (click on the image to open a high-resolution version in a new tab):